Ó Brosnacháin Brosnach

Ó Brosnacháin is a Sept of the Ciarraighe Luachra; Tainist of Brosna and Castleisland in County Kerry.*
The Ciarraighe Luachra were the original tribe of North Kerry and a branch of the Ciarraighe. Before the Cambro-Norman invasion in the late 12th century they had established a semi-independent kingdom between Tralee and the river Shannon. Their chief family was that of O'Connor (O Conchobhair) of Kerry, whose stronghold was at Carrigafoyle, near Ballylongford. **
The territory of Ciarraige Luachra was said to comprise the northern half of County Kerry including the baronies of Trughenacmy, Clanmorris, and Irachticonnor.
Septs of the Ciarraige (Clan na Ruighridhe – Ruaidhri was a descendant of the Milesian Ir ) include the O'Brosnaghans, Ua Conchobuir Ciarraige (O'Conor Kerry), Ua Muiredaig (O'Murtagh), Ua Neide (O'Neide), MacGenises, the MacCartans, the O'Mordhas, (in English, O'More,), O'Loghlins, O'Ferralis, MacGranuills, or MacRanells, O'Lawlors, Magillagans, Scanlans, , O'Cathils, O'Conways, Casies, Tiernys, Nestors, O'Marcachains, O'Tyns, O'Hargans, O'Flahertys, Dorcys, O'Hualachains, MacSheanloichs, O'Morains, O'Rodachains, O'Duains, O'Mainings, MacGilmers, O'Kennys, O'Kenellys, O'Keithernys, MacEochaids, O'Carrollans, and others.***
Although the Brosnan clan was never large it has a long history. The derivation is from the pre 10th century Ó Brosnacháin, meaning the 'son of the descendant of Brosna' a place in east Kerry. 'Brosnan' is one of the very few (less than ten) locational surnames found in Gaelic onamastics.
Earlier anglicized forms preserved the three syllables of the original. There are many variant spellings of the name on record in modern birth registrations including:
O'Brosnan, O' Brosnaghan, O'Brosneghan Brosnan, Brosna,
Brosnahen, Brosnehan Brosnahan, Brosnihan, Brosnahin,
Brosnochain, Bresnehan, Bresnahan Bresnihan, Bresnan, Bresnane, Brusnahan, Brusnehan, Brusnane and Brusnihan.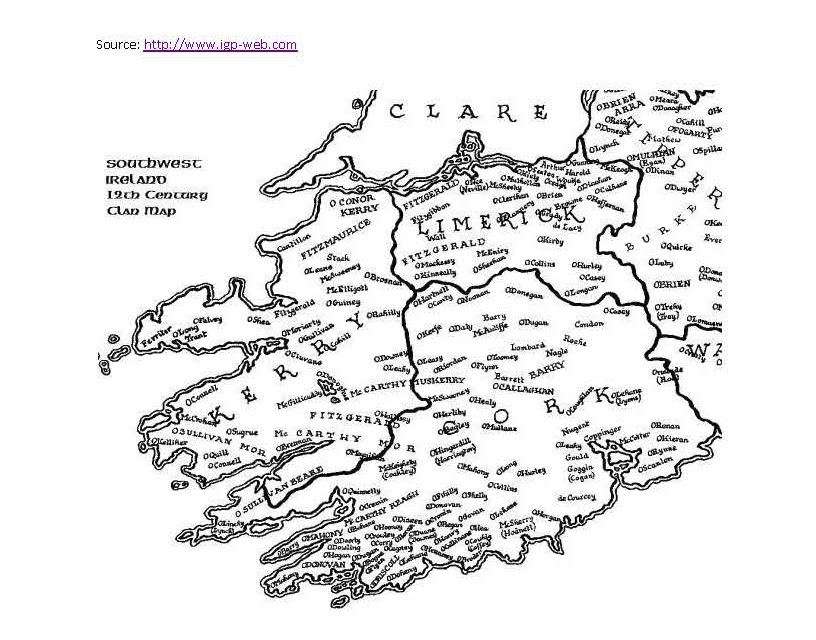 *The Irish Septs, Surnames, Variants, tribes and locations.
Dáithí Ó Lorcáin ©2007 David Austin Larkin
**Families in Ireland from the 11th to the end of the 16th Century.
According to "A Topographical and Historical Map of Ancient Ireland,"
compiled by Philip MacDermott, M.D., the following were the names of the principal families in Ireland, of Irish, Anglo-Norman, and Anglo-Irish origin. O' Brosnaghan
***1753 "Histoire De L'Irlande: Ancienne et Moderne" by Abbé
Mac-Geoghegan (MacGeoghegan, James, 1702-1763)
---
The Ó Brosnacháin Coat of Arms
The Ó Brosnacháin coat of arms has the blazon of a gold lion rampant on a blue field, in chief a red boar on a gold field.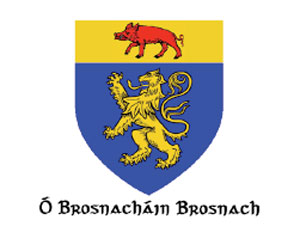 Animals, real and mythical, are used frequently in heraldry and have some general significance.
The lion is conventionally regal and the boar is a Gaelic symbol of endurance and courage.
Yellow or gold denotes generosity and azure or blue has connotations of truth and loyalty.
---